The Arab League: Background & Overview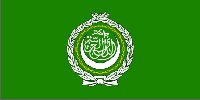 Arab League Flag
The League of Arab States, or Arab League, was formed in Cairo March 22, 1945, for the purpose of securing Arab unity. Because of inter-Arab rivalries, the League has generally been unable to pursue a consistent agenda beyond general opposition to Israel. Even that issue became a source of tension when Egypt signed its peace treaty with Israel in 1979. The League suspended Egypt's membership and moved its headquarters from Cairo to Tunis. In 1989, Egypt was readmitted and Cairo again became the League's base of operations.

The League meets periodically, with its main decision-making council convening biannually. Though unanimous decisions of the council are supposed to be binding on all members, individual states have often gone their own way. One example of this is the inconsistent enforcement of the Arab League's boycott of Israel.

The League's founding members were Egypt, Iraq, Jordan (originally Transjordan), Lebanon, Saudi Arabia, Syria and Yemen. Other Arab countries became members later or as they gained their independence: Algeria (1962), Bahrain (1971), Comoros (1993), Djibouti (1977), Kuwait (1961), Libya (1953), Mauritania (1973), Morocco (1958), Oman (1971), Qater (1971), Somalia (1974), Southern Yemen (1967), Sudan (1956), Tunisia (1958) and the United Arab Emirates (1971). The Palestine Liberation Organization (PLO) was admitted in 1976 and is now considered the State of Palestine. Today, the League has 22 members (Southern Yemen united with the north) with four observer states: Eritrea (2003), Brazil, Venezuela and India.

During the 27th annual Arab League summit, in July 2016, the Palestinian representative assailed the other delegates with accusations that the plight of the Palestinian people had fallen from their priorities.
---
Sources: League of Arab States
Franklin, Lawrence. "What the Arab League Meeting Reveals," The Gatestone Institute, (August 1, 2016)