Myths & Facts
By: Mitchell G. Bard
Chapter 19: The Peace Process
- "Anwar Sadat deserves all of the credit for the Egyptian--Israeli peace treaty."
- "The Palestinian question is the core of the Arab--Israeli conflict."
- "If the Palestinian problem was solved, the Middle East would be at peace."
- "A Palestinian state will pose no danger to Israel."
- "If Israel ends the occupation, there will be peace."
- "The Palestinians have never been offered a state of their own."
- "Yasser Arafat rejected Ehud Barak's proposals in 2000 because they did not offer the Palestinians a viable state."
- "The Palestinians are being asked to accept only 22 percent of Palestine for their state while Israel keeps 78 percent."
- "Israel should be replaced by a binational state."
- "The Palestinian education system promotes peace with Israel."
- "Palestinians no longer object to the creation of Israel."
- "The Palestinians have given up their dream of destroying Israel."
- "Palestinians are justified in using violence because Israel has not allowed them to achieve their national aspirations."
- "Palestinian terrorists only attack Israelis; they never assault Americans."
- "Palestinians never fabricate stories about Israeli atrocities."
- "Peace with Syria has been prevented only by Israel's refusal to withdraw from the Golan Heights."
- "Israel's occupation of Lebanese territory is the only impediment to the conclusion of a peace treaty with Lebanon."
- "Israel's refusal to share water with its neighbors could provoke the next war."
- "Saudi Arabia is a force for peace and moderation."
- "Arab states no longer boycott Israel."
- "The 2002 Arab peace initiative reflects the Arab states' acceptance of Israel."
- "Palestinians would prefer to live in a Palestinian state."
- "Mahmoud Abbas is a moderate politician interested in compromise."
- "Palestinians are driven to terror by poverty and desperation."
- "Israel must negotiate with Hamas."
---
MYTH
"Anwar Sadat deserves all of the credit for the Egyptian-Israeli peace treaty."
FACT

The peace drive did not begin with President Anwar Sadat's November 1977 visit to Jerusalem. Sadat's visit was unquestionably a courageous act of statesmanship, but it came only after more than a half-century of efforts by early Zionist and Israeli leaders to negotiate peace with the Arabs.

"For Israel to equal the drama," said Simcha Dinitz, former Israeli Ambassador to the U.S., "we would have had to declare war on Egypt, maintain belligerent relations for years, refuse to talk to them, call for their annihilation, suggest throwing them into the sea, conduct military operations and terrorism against them, declare economic boycotts, close the Strait of Tiran to their ships, close the Suez Canal to their traffic, and say they are outcasts of humanity. Then Mr. Begin would go to Cairo, and his trip would be equally dramatic. Obviously, we could not do this, because it has been our policy to negotiate all along." 1

Nonetheless, Israeli Prime Minister Menachem Begin proved that, like Sadat, he was willing to go the extra mile to achieve peace. Despite the Carter Administration's tilt toward Egypt during the talks, Begin remained determined to continue the peace process and froze Israeli settlements in the West Bank to facilitate the progress of negotiations.

In the end, Israel made tangible concessions to Egypt in exchange for only promises. Begin agreed to give the strategically critical Sinai Peninsula - 91 percent of the territory won by Israel during the Six-Day War - back to Egypt in exchange for Sadat's pledge to make peace.

In giving up the Sinai, Israel also lost electronic early-warning stations that provided intelligence on Egyptian military movements on the western side of the Suez Canal, as well as the areas near the Gulf of Suez and the Gulf of Eilat, which were vital to defending against an attack from the east. Additionally, Israel relocated more than 170 military installations, airfields and army bases after it withdrew.

The withdrawal may have also cost Israel its only chance to become energy-independent. The Alma oil field in the southern Sinai, discovered and developed by Israel, was transferred to Egypt in November 1979. When Israel gave up this field, it had become the country's largest single source of energy, supplying half the country's energy needs.

Israel also relinquished direct control of its shipping lanes to and from Eilat, as well as 1,000 miles of roadways, homes, factories, hotels, health facilities and agricultural villages.

Because Egypt insisted that Jewish civilians leave the Sinai, 7,000 Israelis were uprooted from the homes and businesses.

In 1988, Israel relinquished Taba - a resort town built by Israel in what had been a barren desert area near Eilat - to Egypt. Taba's status had not been resolved by the Camp David Accords. When an international arbitration panel ruled in Cairo's favor on September 29, 1988, Israel turned the town over to Egypt.

Sadat made a courageous decision to make peace with Israel, but Begin's decision was no less bold and the Israeli sacrifices far more substantial than those of the Egyptians.

"Israel wants to give the Palestinians what no one else gave them—a state. Not the Turks, the British, the Egyptians, or the Jordanians gave them this possibility."

— Prime Minister Ariel Sharon 2

MYTH
"The Palestinian question is the core of the Arab-Israeli conflict."
FACT

In reality, the Palestinian question is the result rather than the cause of the conflict, and stems from Arab unwillingness to accept a Jewish State in the Middle East.

Had Arab governments not gone to war in 1948 to block the UN partition plan, a Palestinian state would now be celebrating more than 60 years of independence. Had the Arab states not supported terrorism directed at Israeli civilians and provoked seven subsequent Arab-Israeli wars, the conflict could have been settled long ago, and the Palestinian problem resolved.

From 1948–67, the West Bank and Gaza were under Arab rule, and no Jewish settlements existed there, but the Arabs never set up a Palestinian state. Instead, Gaza was occupied by Egypt, and the West Bank by Jordan. No demands for a West Bank/Gaza independent state were heard until Israel took control of these areas in the Six-Day War.

MYTH
"If the Palestinian problem was solved, the Middle East would be at peace."
FACT

The Palestinian problem is but one of many simmering ethnic, religious and nationalistic feuds plaguing the region. Here is but a partial list of other conflicts the 1991 Gulf War; the Iran-Iraq War; the Lebanese Civil War; Libya's interference in Chad; the Sudanese Civil War; the Syria-Iraq conflict, the war between the Polisario Front and Morocco and, in 2011, the revolutions in Egypt, Tunisia, Libya, Syria and upheavals in several other Arab states.

"Almost every border in that part of the world, from Libya to Pakistan, from Turkey to Yemen, is either ill-defined or in dispute," scholar Daniel Pipes noted. "But Americans tend to know only about Israel's border problems, and do not realize that these fit into a pattern that recurs across the Middle East." 3

If the Palestinian problem was solved, it would have negligible impact on the many inter-Arab rivalries that have spawned numerous wars in the region. The creation of a Palestinian state would also not eliminate Arab opposition to Israel. Syria and Lebanon, for example, have territorial disputes with Israel unrelated to the Palestinians. Other countries, such as Iran, whose president threatened to wipe Israel off the map, maintain a state of war with Israel despite having no territorial disputes.

"In the end we [Israel and the Palestinians] will reach a solution in which there will be a Palestinian state, but it has to be a Palestinian state by agreement and it has to be a demilitarized Palestinian state."

— Prime Minister Ariel Sharon 4

MYTH
"A Palestinian state will pose no danger to Israel."
FACT

For many years, the consensus in Israel was that the creation of a Palestinian state would present a grave risk to Israeli security. These fears were well founded given the longstanding Palestinian commitment to the destruction of Israel, and the later adoption of the phased plan whereby the Palestinians expressed a reluctant willingness to start with a small state in the short-term and use it as a base from which to pursue the longer-term goal of replacing Israel.

Starting with the Oslo agreements in the early 1990s, a radical shift in opinion occurred and most Israelis became reconciled to the idea of living beside a peaceful demilitarized Palestinian state. The two-state solution is viewed as the best option for ending the conflict, but Israelis still believe it entails risks, a view reinforced by Palestinian actions since Oslo.

Even after returning much of the West Bank and all of Gaza, and allowing the Palestinians to govern themselves, terrorism and incitement against Israelis has continued. So far, no concessions by Israel have been sufficient to prompt the Palestinians to end the violence.

Israelis also fear that a Palestinian state will become dominated by Islamic extremists and serve as a staging area for terrorists, a concern grounded in the experience following the disengagement from Gaza. Another danger is that a Palestinian state could serve as a forward base for Arab nations that have refused to make peace with Israel in a future war. 5

In an ideal world, a Palestinian state would pose no threat, but history and experience makes Israelis cautious. The level of support for the two-state solution is an indication, however, of the risks Israelis are prepared to take in the hope of peace.

MYTH
"If Israel ends the occupation, there will be peace."
FACT

The mantra of the Palestinians and their supporters since 1967 has been: "End the occupation." The assumption underlying this slogan is that peace will follow the end of Israel's "occupation." The equally popular slogan among critics of Israeli policy has been that it should "trade land for peace." Again, the premise being that it is simply Israel's presence on land claimed by the Palestinians that is the impediment to peace.

The experience in Gaza offered a stark case study of the disingenuousness of these slogans.

If the Palestinians' fervent desire was really to end Israeli control over their lives, they would have cheered Israel's plan to evacuate the Gaza Strip and done everything possible to make it a success. Instead, they denounced disengagement. Israel still withdrew from every inch of Gaza—not a single Israeli soldier or civilian remains—at great emotional and financial cost. And what has the end of "the occupation" brought Israel? Has Israel received peace in exchange for the land? No, to the contrary, the Palestinian answer to meeting their demands was a four-year barrage of rocket fire. 6

Slogans are good for bumper stickers, but they are irrelevant to the future of Israel and its neighbors. Israelis have repeatedly shown a desire for peace, and a willingness to make painful sacrifices, but nothing they do will end the conflict. The escalation of violence occurred following Israel's evacuation of Gaza and after the Israeli Prime Minister expressed his intention to withdraw from virtually the entire West Bank. Rather than end the occupation, Palestinian actions have forced Israel to maintain it. Peace will be possible only when the Palestinians demonstrate through their actions a willingness to coexist in a state beside Israel.

"The responsibility for this escalation in the Israeli-Palestinian conflict rests with the Palestinians who have yet again turned their backs on peace. Rather than take the withdrawal of Israel from Gaza as an opportunity to build a future for their children, they instead refused to relinquish their embrace of a culture of hate and death."

— Editorial, Chicago Sun Times 7

MYTH
"The Palestinians have never been offered a state of their own."
FACT

The Palestinians have actually had numerous opportunities to create an independent state, but have repeatedly rejected the offers:

In addition, from 1948 to 1967, Israel did not control the West Bank. The Palestinians could have demanded an independent state from the Jordanians.

The Palestinians have spurned each of these opportunities. A variety of reasons have been given for why the Palestinians have in Abba Eban's words, "never missed an opportunity to miss an opportunity." Historian Benny Morris has suggested that the Palestinians have religious, historical, and practical reasons for opposing an agreement with Israel. He says that "Arafat and his generation cannot give up the vision of the greater land of Israel for the Arabs. [This is true because] this is a holy land, Dar al-Islam [the world of Islam]. It was once in the hands of the Muslims, and it is inconceivable [to them] that infidels like us [the Israelis] would receive it."

The Palestinians also believe that time is on their side. "They feel that demographics will defeat the Jews in one hundred or two hundred years, just like the Crusaders." The Palestinians, Morris says, also hope the Arabs will acquire nuclear weapons in the future that will allow them to defeat Israel. 8

"Barak made a proposal that was as forthcoming as anyone in the world could imagine, and Arafat turned it down. If you have a country that's a sliver and you can see three sides of it from a high hotel building, you've got to be careful what you give away and to whom you give it."

— U.S. Defense Secretary Donald Rumsfeld 9

MYTH
"Yasser Arafat rejected Barak's proposals in 2000 because they did not offer the Palestinians a viable state."
FACT

In 2000, Israeli Prime Minister Ehud Barak offered to withdraw from 97 percent of the West Bank and 100 percent of the Gaza Strip. In addition, he agreed to dismantle 63 isolated settlements. In exchange for the 3 percent annexation of the West Bank, Israel said it would give up territory in the Negev that would increase the size of the Gaza territory by roughly a third.

Barak also made previously unthinkable concessions on Jerusalem, agreeing that Arab neighborhoods of East Jerusalem would become the capital of the new state. The Palestinians would maintain control over their holy places and have "religious sovereignty" over the Temple Mount.

According to U.S. peace negotiator Dennis Ross, Israel offered to create a Palestinian state that was contiguous, and not a series of cantons. Even in the case of the Gaza Strip, which must be physically separate from the West Bank unless Israel were to be cut into non-contiguous pieces, a solution was devised whereby an overland highway would connect the two parts of the Palestinian state without any Israeli checkpoints or interference. The proposal also addressed the Palestinian refugee issue, guaranteeing them the right of return to the Palestinian state and reparations from a $30 billion fund that would be collected from international donors to compensate them.

""In his last conversation with President Clinton, Arafat told the President that he was "a great man." Clinton responded, "The hell I am. I'm a colossal failure, and you made me one."10

Arafat was asked to agree to Israeli sovereignty over the parts of the Western Wall religiously significant to Jews (i.e., not the entire Temple Mount), and three early warning stations in the Jordan Valley, which Israel would withdraw from after six years. Most important, however, Arafat was expected to agree that the conflict with Israel was over at the end of the negotiations. This was the true deal breaker. Arafat was not willing to end the conflict. "For him to end the conflict is to end himself," said Ross. 11

The prevailing view of the Camp David/White House negotiations—that Israel offered generous concessions, and that Yasser Arafat rejected them to pursue the war that began in September 2000—was acknowledged for more than a year. To counter the perception that Arafat was the obstacle to peace, the Palestinians and their supporters then began to suggest a variety of excuses for why Arafat failed to say "yes" to a proposal that would have established a Palestinian state. The truth is that if the Palestinians were dissatisfied with any part of the Israeli proposal, all they had to do was offer a counterproposal. They never did.

MYTH
"The Palestinians are being asked to accept only 22 percent of Palestine for their state while Israel keeps 78 percent."
FACT

The government of Israel has agreed to a two-state solution to the conflict with the Palestinians. Once Israel agreed to give the Palestinians the independence they say they want, the Palestinians shifted their complaint to the size of the state they were being offered. Palestinians say Israel is doing them no favors by offering a state in the disputed territories because it is asking them to accept a state in only 22 percent of Palestine while Israel keeps 78 percent. This is a very convincing point to show the unfairness of the Palestinians' plight and to suggest Israel's peace overtures are inconsequential; that is, unless you know the history of Palestine and recognize that the truth is exactly the reverse.

Historic Palestine included not only Israel and the West Bank, but also all of modern Jordan. It is Israel, including the disputed territories, that is only 22 percent of "Palestine." If Israel were to withdraw completely from the West Bank and Gaza Strip, it would possess only about 18 percent. And from Israel's perspective, it is the Zionists who have made the real sacrifice by giving up 82 percent of the Land of Israel. In fact, by accepting the UN's partition resolution, they were prepared to accept only about 12 percent of historic Israel before the Arab states attacked and tried to destroy the nascent state of Israel.
Meanwhile, of the approximately 9 million Palestinians worldwide, three-fourths live in historic Palestine.

"To keep 3.5 million people under occupation is bad for us and them. . . . I want to say clearly that I have come to the conclusion that we have to reach a [peace] agreement."

— Prime Minister Ariel Sharon 12

MYTH
"Israel should be replaced by a binational state."
FACT

The idea of a binational state is not new; it was first proposed by prominent Jews such as Judah Magnes in the 1920s. As is the case today, however, the suggestion enjoyed no popular support.

The utopian view of the advocates of binationalism was that the Jews and Arabs both had legitimate claims to the land and should live in peace together in one state. This idea negated the Jewish right to self-determination in their homeland; ignored the demographic concern that the rapidly growing Arab population would overwhelm that of the Jews, making them a minority in their homeland; and assumed the Arabs were prepared to coexist peacefully with the Jews within the same state. The idealists were proven wrong during two decades of violence by Arabs against Jews in Palestine, and by the Arab rejection of the British White Paper of 1939, which offered them the type of unitary state they proposed.

"A Palestinian state will never be built on a foundation of violence. Now is the time for every true friend of the Palestinian people, every leader in the Middle East, and the Palestinian people themselves, to cut off all money and support for terrorists and actively fight terror on all fronts. Only then can Israel be secure and the flag rise over an independent Palestine."

— President George W. Bush 13

As early as 1937, it had become clear that the two peoples could not live together and needed to have states of their own. As a result, the Peel Commission proposed a partition in that year and the UN approved the same approach a decade later. Nothing has changed since that time to suggest any other solution can end the conflict.

Since Palestinian Arabs already constitute approximately 46 percent of the population living between the Mediterranean Sea and the Jordan River, and their birth rate is higher than that of Israeli Jews, they would soon become either a significant minority or the majority of the population in a binational state. The Jewish character of the nation would then erode and disappear, and Israeli Jews would lose political control over the one safe haven for Jews. Moreover, given the historical mistreatment of Jews in Arab lands, creation of a binational state would potentially lead to the persecution of Jews.

MYTH
"The Palestinian education system promotes peace with Israel."
FACT

Rather than use education to promote peace with their Jewish neighbors, the Palestinians have persistently indoctrinated their children with anti-Semitic stereotypes, anti-Israel propaganda and other materials designed more to promote hostility and intolerance rather than coexistence.

For example, a Palestinian children's television show called the "Children's Club" used a "Sesame Street" formula involving interaction between children, puppets and fictional characters to encourage a hatred for Jews and the perpetration of violence against them in a jihad (holy war). In one song, young children were shown singing about their desire to become "suicide warriors" and taking up machine guns against Israelis. Another song features young children singing a refrain, "When I wander into Jerusalem, I will become a suicide bomber." 14

"We have found books with passages that are so anti-Semitic, that if they were published in Europe, their publishers would be brought up on anti-racism charges."

— French lawyer and European Parliament member Francois Zimeray 15

Another Palestinian TV show featured a Mickey Mouse-like character named Farfour who encouraged children to fight against Israel and to work for "a world led by Islamists." After attracting criticism, the show was cancelled, but not before a final episode aired in which Farfour is murdered by Israelis. 16


Palestinian child dressed as a suicide bomber

Palestinian TV also called on their youth to drop their toys, pick up rocks, and do battle with Israel. In one commercial, actors recreated the incident where a child was killed in the crossfire of a confrontation between Israelis and Palestinians. The commercial shows the child in paradise urging other children to "follow him." 17

PA-run TV also teaches children that all of Israel is "occupied Palestine," referring to Israeli cities such as Haifa and Jaffa, for example, as "occupied Palestinian cities." 18

Similar messages are conveyed in Palestinian textbooks, many of which were prepared by the Palestinian Ministry of Education. The 5th grade textbook Muqarar al-Tilawa Wa'ahkam Al-Tajwid describes Jews as cowards for whom Allah has prepared fires of hell. In a text for 8th graders, Al-Mutala'ah Wa'alnussus al-Adabia, Israelis are referred to as the butchers in Jerusalem. Stories glorifying those who throw stones at soldiers are also found in various texts. A 9th grade text, Al-Mutala'ah Wa'alnussus al-Adabia, refers to the bacteria of Zionism that has to be uprooted out of the Arab nation. 19

Newer textbooks are less strident, but still problematic. For example, they describe the Palestinian nation as one comprised of Muslims and Christians. No mention is made of Jews or the centuries-old Jewish communities of Palestine. The city of Jerusalem is described as exclusively Arab. Israel is not recognized as a sovereign nation and all maps are labeled "Palestine." Israel is held responsible for the 1948 war and refugee problem and a catalogue of abuses against the Palestinians are attributed to the "occupier." Zionism is depicted as racist and connected to Western imperialism. References to Jews are usually stereotypical and are often related in a negative way to their opposition to Muhammad and refusal to convert to Islam. A lesson on architecture describes prominent mosques and churches, but makes no mention of Jewish holy places. 20 One textbook analysis concludes:

Despite the evident reduction in anti-Semitic references, compared to the old textbooks, the history of the relationship between Muslims, Christians and Jews in the new textbooks strengthen classical stereotypes of Jews in both Islamic and Christian cultures. The linkage of present conflicts with ancient disputes of the time of Jesus or Muhammad implies that nothing has really changed. 21

The lessons don't end in school. Summer camp teaches Palestinian children how to resist the Israelis and that the greatest glory is to be a martyr. Campers stage mock kidnappings and learn how to slit the throats of Israelis. Four "Paradise Camps" run by Islamic Jihad in the Gaza Strip offered 8–12 year-olds military training and encourage them to become suicide bombers. 22

"We are teaching the children that suicide bombs make Israeli people frightened. . . . We teach them that after a person becomes a suicide bomber he reaches the highest level of paradise."

— Palestinian "Paradise Camp" counselor speaking to BBC interviewer 23

In the summer of 2009, Hamas ran 700 camps for 100,000 children and teenagers. Included in the camps' curricula were lessons in shooting firearms and dismantling grenades. Two years earlier, some Palestinian parents were so upset about the military training and incitement of their children against Israel and Fatah they pulled them out of the camps. 24

These teachings violate the letter and spirit of the peace agreements.

MYTH
"Palestinians no longer object to the creation of Israel."
FACT

One of the primary Palestinian obligations under the Road Map for peace is to affirm Israel's right to exist in peace and security. How then does one interpret Palestinian Authority Chairman Mahmoud Abbas's description of the decision to create a Jewish state in 1948 as a crime? 25

While Israelis celebrate their independence, Abbas and other Palestinians mourn the establishment of Israel on what they call Nakba Day. Had the Palestinians and the Arab states accepted the partition resolution in 1947, the State of Palestine would also celebrate its birthday each year, and Palestinians would not be lamenting Al Nakba ("The Catastrophe").

Palestinians are understandably bitter about their history over these last six decades, but we are often told that what they object to today is the "occupation" of the territories Israel captured in 1967. If that is true, then why isn't their Nakba Day celebrated each June on the anniversary of the Arab defeat in the Six-Day War?

"Palestine means Palestine in its entirety—from the [Mediterranean] Sea to the [Jordan] River, from Ras Al-Naqura to Rafah. We cannot give up a single inch of it. Therefore, we will not recognize the Israeli enemy's [right] to a single inch."

— Hamas leader Mahmoud Zahar 26

The reason is that the Palestinians consider the creation of Israel the original sin, and their focus on that event is indicative of a refusal, even today, to reconcile themselves with the Jewish State. Hamas has never left any doubt about its refusal to accept Israel's existence and unwavering commitment to the Hamas Covenant's call for the destruction of Israel. 27

It may be that the current leadership does not truly represent the feelings of the Palestinian people. A March 2010 poll, for example, found that 58 percent of Palestinians support Israeli-Palestinian peace negotiations. 28 This is a hopeful sign; however, as long as the Palestinian Authority treats Israel's creation as a catastrophe on a par with the Holocaust, the prospects for coexistence will remain bleak.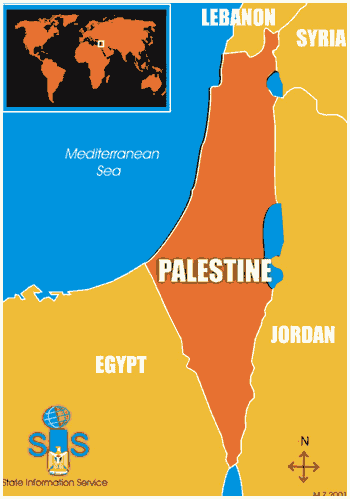 Official PA map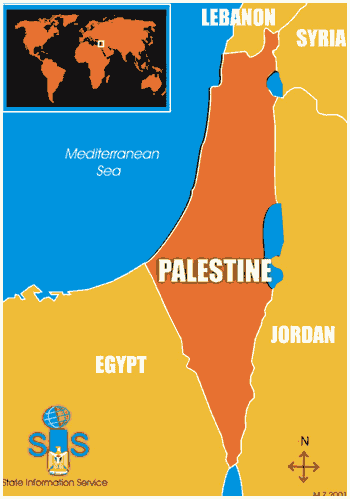 MYTH
"The Palestinians have given up their dream of destroying Israel." top
FACT

While Israelis have expressed a willingness to live in peace with a Palestinian state beside Israel, the Palestinian Authority continues to promote the maximalist vision in its school textbooks and, especially, its maps. The most dramatic expression of the goal is in the map of Palestine published on its official web site, which showed Palestine as encompassing not only the West Bank and Gaza Strip, but all of Israel as well. Similar maps appear in textbooks. 29 As the map vividly indicates, the Palestinians continue to dream of a Palestinian state that replaces Israel.

MYTH
"Palestinians are justified in using violence because Israel has not allowed them to achieve their national aspirations."
FACT

The premise from the beginning of the Oslo peace process was that disputes would be resolved by talking, not shooting. The Palestinian leadership has never accepted this most basic of principles for coexistence. The answer to complaints that Israel is not withdrawing far enough or fast enough should be more negotiations, more confidence-building measures and more demonstrations of a desire to live together without using violence.

To understand why the Oslo process failed, and why Palestinians and Israelis are not living peacefully beside each other, it is useful to look at the first Arab-Israeli peace process that did work, the Egyptian-Israeli negotiations. Though the peace agreement was hammered out in intensive negotiations at Camp David, the route to peace was a long, tortuous one that took years to navigate. What made it possible, however, was the commitment both nations made to peace and the actions they took to ensure it.

"If the Israelis can make compromises and you can't, I should go home. You have been here 14 days and said no to everything. These things will have consequences. Failure will end the peace process. . . ."

— President Clinton to Yasser Arafat 30

Egypt maintained a state of war with Israel for more than 25 years before Anwar Sadat seriously talked about peace. Bloody conflicts were fought in 1948, 1956, 1967, 1968–70 and 1973. The anger, heartache and distrust of a quarter century did not dissipate overnight. The process began after the 1973 war when Henry Kissinger facilitated the negotiation of a disengagement agreement in which both sides made significant concessions.

Egypt had demanded that Israel make a substantial withdrawal from Sinai and commit to abandon all its territorial gains from 1967, but Israel gave up only a tiny area of the Sinai. Rather than resort to violence, the Egyptians engaged in more negotiations.

The first agreement was signed in January 1974. It took about a year and a half before a second agreement was reached. It wasn't easy. Israel was criticized for "inflexibility," and the Egyptians were no less difficult. Anwar Sadat agreed to limit anti-Israel propaganda in the Egyptian press and to end his country's participation in the Arab boycott. Yitzhak Rabin also made difficult territorial concessions, giving up oil fields and two critical Sinai passes.

After "Sinai II," Egypt still had not recovered all of its territory. Sadat was dissatisfied and was pilloried by the other Arabs for going as far as he did toward peace with Israel. Nevertheless, he did not resort to violence. There was no unleashing of fedayeen, as Nasser had done in the 1950s. Instead, he continued talking.

It took three more years before the Camp David Accords were signed and another six months after that before the final peace treaty was negotiated. It took five years to work out issues that were as complex as those in the current impasse.

In return for its tangible concessions, Israel received the promise of a new future of peaceful relations. Israel could take this risk because Egypt had demonstrated over the previous five years that it would resolve disputes with Israel peacefully, and that it no longer wished to destroy its neighbor.

Egypt still wasn't completely satisfied. Sadat demanded a small sliver of land that Israel retained in the Sinai. It took another nine years before international arbitration led Israel to give up Taba. Rather than using this dispute as a pretext for violating the peace treaty, Egypt negotiated.

The lesson for the Palestinians is that they can only achieve their objective through compromise during face-to-face negotiations.

MYTH
"Palestinian terrorists only attack Israelis; they never assault Americans."
FACT

The PLO has a long history of brutal violence against innocent civilians of many nations, including the United States. Palestinian Muslim terrorist groups are a more recent phenomenon, but they have not spared Americans either. Here are a few examples of Palestinian terrorist incidents involving American citizens.

In September 1970, more than three dozen Americans were among the passengers who were held hostage when the Popular Front for the Liberation of Palestine (PFLP) hijacked four jets.
In 1972, the PLO attempted to mail letter bombs to President Nixon, former Secretary of State William Rogers and Secretary of Defense Melvin Laird.
On March 2, 1973, members of the PLO murdered U.S. Ambassador to the Sudan Cleo Noel and chargé d'affaires George Moore. The killers were captured by Sudan and admitted they had gotten orders directly from the PLO. U.S. intelligence officials were believed to also have evidence directly tying Yasser Arafat to the killings, but for unknown reasons suppressed it. All the terrorists were released.
On March 11, 1978, PLO terrorists landed on Israel's coast and murdered an American photographer walking along the beach. The terrorists then commandeered a bus along the coastal road, shooting and lobbing grenades from the bus window at passersby. When Israeli troops stopped their deadly ride, 34 civilians were dead and another 82 wounded.
In October 1985, a PLF terror squad commanded by Abul Abbas hijacked the ocean liner Achille Lauro. Leon Klinghoffer, a wheelchair-bound American passenger was murdered.
In March 1988, Arafat's Fatah declared it had attempted to murder Secretary of State George Shultz by planting a car bomb near his Jerusalem hotel. 31
On April 9, 1995, an Islamic Jihad suicide bomber blew up an Israeli bus killing eight people, including 20-year-old Brandeis University student Alisa Flatow.
August 9, 2001, Shoshana Yehudit Greenbaum, was among 15 people killed in a suicide bombing at the Sbarro pizzeria in downtown Jerusalem. Hamas and the Islamic Jihad claimed responsibility for the attack.
July 31, 2002, a bomb exploded at the Hebrew University cafeteria killing seven and wounding 80. Five Americans were among the dead.
June 11, 2003, a bus bombing in Jerusalem killed one American and injured the daughter of New Jersey State Senator Robert Singer.
June 20, 2003, a shooting attack on a car driving through the West Bank killed Tzvi Goldstein, and injured his father, mother, and wife.
August 19, 2003, a suicide bombing on a bus in Jerusalem killed five Americans, including children aged 9, 3, and 3 months; an 11-year-old American was injured.
October 15, 2003, Palestinian terrorists ambushed an American convoy in the Gaza Strip killing three U.S. citizens on contract to the U.S. embassy in Tel Aviv.
September 24, 2004, a mortar strike on a housing community killed dual citizen Tiferet Tratner.
April 17, 2006, homicide bombing at the Rosh Ha'ir restaurant in Tel Aviv: Daniel Wultz, 16, of Weston, Florida, died one month after receiving his wounds in this bombing.
December 20, 2010, an American tourist hiking in the foothills of Jerusalem was stabbed to death by a Palestinian terrorist.

"The bombing yesterday [August 9, 2001] of a crowded pizza restaurant in downtown Jerusalem, which killed at least 14 people and injured around 100, was an atrocity of the sort that must be distinguished from everything else that goes on in the Palestinian-Israeli conflict. . . . the deliberate targeting of civilians, including children . . . is a simple savagery that no country can reasonably be expected to tolerate. Israel's determination last night to respond was entirely legitimate. . . . "

— Washington Post Editorial 32

MYTH
"Palestinians never fabricate stories about Israeli atrocities."
FACT

Palestinian and other Arab leaders routinely use their media outlets to spread outrageous libels against Israel and the Jews to inflame their populations. Palestinians have become masters of the technique perfected by Adolf Hitler known as the "big lie." As Hitler explained in Mein Kampf:

The size of a lie is a definite factor in causing it to be believed, for the vast masses of a nation are in the depths of their hearts more easily deceived than consciously and intentionally bad. The primitive simplicity of their minds renders them a more easy prey to a big lie than a small one, for they themselves often tell little lies but would be ashamed to tell big ones.

One example of the Palestinian big lie came on March 11, 1997, when the Palestinian representative to the UN Human Rights Commission claimed the Israeli government had injected 300 Palestinian children with the HIV virus. 33

Palestinians claimed in 2002 that Israel was dropping poisoned candies from helicopters in front of schools to poison children. That lie was updated in 2003 with the fabrication that Israel is making "bombs and mines designed as toys" and dropping them into the Palestinian territories from airplanes so children will play with them and be blown up. 34 In 2005, the Palestinians announced that Israel was using a "radial spy machine" at checkpoints, and that the device had killed a 55-year-old Palestinian woman. 35

The Palestinians also regularly try to inflame the Muslim world by falsely claiming the Jews are going to blow up the Temple Mount or the al-Aksa Mosque. For example, on September 29, 2000, the Voice of Palestine, the PA's official radio station, sent out calls "to all Palestinians to come and defend the al-Aksa mosque." This was the day after Ariel Sharon's visit to the Temple Mount, and the subsequent riots marked the unofficial beginning of the Palestinian War.

In the midst of that war, the Palestinian Authority TV "Message to the World" broadcast announced: "The Zionist criminals are planning to destroy the al-Aksa mosque on the ground that they are searching for the Holy Temple, which they falsely claim is under the mosque." 36

One of the most outrageous lies circulated throughout the Middle East was that 4,000 Israelis did not report to work on September 11 because they knew an attack was coming. Israel and the Mossad are also said to be responsible for the atrocities. Of course, this was also a lie, but it is the type of conspiracy theory that is widely believed by Arabs who maintain the forgery, the Protocols of the Elders of Zion, is factual.

"The problem is the same problem that has been there for the three years that I have been working in this account. And that is terrorism, terrorism that still emanates from Hamas, Palestinian Islamic Jihad, and other organizations that are not interested in peace, not interested in a state for the Palestinian people. They're interested in the destruction of Israel."

— Secretary of State Colin Powell 37

MYTH
"Peace with Syria has been prevented only by Israel's refusal to withdraw from the Golan Heights."
FACT


Strategic map of the Golan Heights

Given past history, Israel is understandably reluctant to give away the strategic high ground and its early-warning system. Nevertheless, Israel repeatedly expressed a willingness to negotiate the future of the Golan Heights. One possible compromise might be a partial Israeli withdrawal, along the lines of its 1974 disengagement agreement with Syria. Another would be a complete withdrawal, with the Golan becoming a demilitarized zone.

After losing the 1999 election, Benjamin Netanyahu confirmed reports that he had engaged in secret talks with Syrian President Hafez Assad to withdraw from the Golan and maintain a strategic early-warning station on Mount Hermon. Publicly, Assad continued to insist on a total withdrawal with no compromises and indicated no willingness to go beyond agreeing to a far more limited "non-belligerency" deal with Israel than the full peace treaty Israel has demanded.

Intensive negotiations between Israeli and Syrian negotiators were held in 2000 and 2008, but the discussions did not result in any agreements.

Hafez Assad died in 2000 and was succeeded by his son, Bashar, who has publicly insisted on the same terms as his father—total Israeli withdrawal from the Golan Heights with no promise of peace in exchange. Israel has made clear it is prepared to compromise on the Golan and make significant territorial concessions. The only obstacle is Assad's unwillingness to say yes to peace with Israel.

MYTH
"Israel's occupation of Lebanese territory is the only impediment to the conclusion of a peace treaty with Lebanon."
FACT

Israel has never had any hostile intentions toward Lebanon, but has been forced to fight as a result of the chaotic conditions in southern Lebanon that have allowed terrorists, first the PLO, and now Hezbollah, to menace citizens living in northern Israel. In 1983, Israel did sign a peace treaty with Lebanon, but Syria forced President Amin Gemayel to renege on the agreement.

Israel pulled all its troops out of southern Lebanon on May 24, 2000. The Israeli withdrawal was conducted in coordination with the UN, and, according to the UN, constituted an Israeli fulfillment of its obligations under Security Council Resolution 425. Still, Hezbollah and the Lebanese government insist that Israel holds Lebanese territory in a largely uninhabited patch called Shebaa Farms. This claim provides Hezbollah with a pretext to continue its belligerency toward Israel. The Israelis maintain, however, that the land was captured from Syria.

Syria, meanwhile, has used its influence over Lebanon to discourage any peace negotiations until its claims on the Golan Heights are resolved. For some time it seemed possible a Lebanon-Israel agreement could be achieved once Israel and Syria reached an agreement, but the growing power in Lebanon of Iran's proxy, Hezbollah, has reduced the chance that Lebanon would make peace with Israel under any circumstances.

"Palestine is not only a part of our Arab homeland, but a basic part of southern Syria."

— Syrian President Hafez Assad 38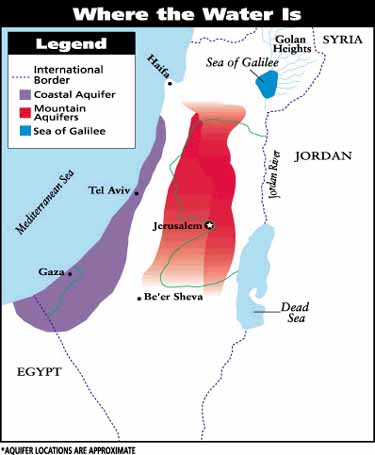 Where the Water Is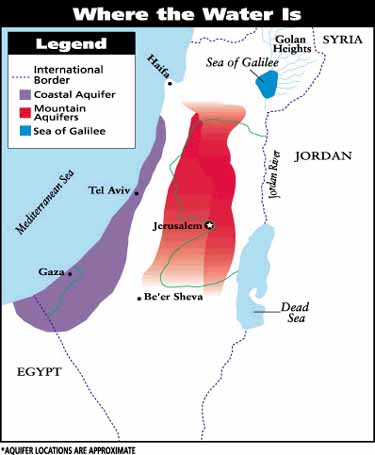 MYTH
"Israel's refusal to share water with its neighbors could provoke the next war."
FACT

The supply of water is a matter of life and death for the peoples of the Middle East. A Jerusalem Post headline concisely stated the security threat for Israel: "The hand that controls the faucet rules the country." 39

King Hussein said in 1990 the one issue that could bring Jordan to war again is water, so it is not surprising that an agreement on water supplies was critical to the negotiation of the peace treaty with Israel. Jordan now receives an annual allotment of water from Israel. 40

Israel has had an ongoing water deficit for a number of years. Simply put, the amount of water consumed is greater than the amount of water collected from rainfall. In a drought year, the situation worsens, because the amount of water in reservoirs and the amount of water flowing in rivers and streams is significantly decreased.

The situation is growing more dangerous each year as the population of the region continues to grow exponentially, political disputes over existing water supplies become more pronounced, and Israel and the Palestinians negotiate rights to the water in the West Bank and Gaza Strip.

Israel has three main water sources: the coastal and mountain aquifers and Lake Kinneret (Sea of Galilee). Each supply approximately 25 percent of the total consumed. Roughly 20 percent is derived from smaller aquifers. The remaining 5 percent comes from the Shafdan project that recycles sewage in metropolitan Tel Aviv.

"In Old Testament times, there were two ways of solving disputes over water, which has always been scarce in our region. One was to fight over it. The other was to jointly place over the mouth of the well, a stone so large that five shepherds were needed to lift it, creating the need for cooperation."

— Former Israeli Agriculture Minister Yaacov Tzur 41

The Palestinians maintain that Israel is stealing their water because the mountain aquifer is partially located in the West Bank. Most of the water extracted by Israel, however, is taken from the portion that is within the pre-1967 border of Israel. Nevertheless, the Palestinians argue the water should come under their control while Israel counters that it has a right to the water based on its prior use, its investment in development and because of the fact that the water naturally flows inside the Green Line.

The danger for Israel is that even if a future Palestinian state had peaceful intentions, it could significantly reduce the water available to Israel because of the need to satisfy the needs of its own population. As it is, unauthorized Palestinian drilling of wells in the West Bank has affected the quality of the aquifer. Without any other water source, the Palestinians will be tempted to pump more out of the aquifer to meet their growing needs and thereby could ultimately inundate it with seawater. There would be nothing Israel could do to stop them.

Also, the poor quality of PA water treatment facilities, mismanagement, neglect, and the low priority placed on environmental issues increases the likelihood that the aquifer will be polluted and its quality reduced perhaps to the point of being undrinkable. This has already occurred in the Gaza Strip where the sole aquifer is unusable because of contamination and salinity.

According to the Oslo accords, the Palestinians are entitled to 23.6 million cubic centimeters of water a year, but they actually pump, with Israeli consent, 70 million. Israel has also provided additional water to villages that suffer a water shortage. 42 In 2010 alone, 37 water projects in the West Bank were approved by Israel. Occasionally, Israel is accused of giving water to settlements at the expense of the Palestinians; however, most settlements get their water from inside Israel, not the West Bank.

If Israel gives up control of the mountain aquifer, as is implicit in the proposals made to date, it will depend on the goodwill of the Palestinians to protect the quality of the water and to ensure Israel continues to receive sufficient water to meet its needs.

"Israel has no right even to a single drop of water in this region."

— Syrian Foreign Minister Farouk al-Sharaa 43

Water is also an issue in negotiations with the Syrians. Syria demands the full return of the Golan Heights in return for peace with Israel. This means that Israel would face problems regarding the quality and quantity of water that flows into the Kinneret from Syrian-controlled territory. According to water expert Joyce Starr, an Israeli government that concedes territory on the Golan without a guaranteed supply of Yarmuk waters, or some alternative source of water, would be putting the nation in "grave jeopardy." 44

Israel is taking steps to ameliorate the water issue by constructing large desalination plants that are expected to satsify nearly one-fourth of Israel's needs. Israel offered to build a desalination plant in Hadera for the Palestinians in the West Bank, but they rejected the idea.

MYTH
"Saudi Arabia is a force for peace and moderation."
FACT

"The Saudis are active at every level of the terror chain, from planners to financiers, from cadre to foot-soldier, from ideologist to cheerleader," said Laurent Murawiec, a Rand Corporation analyst in a secret briefing to a top Pentagon advisory board. "Saudi Arabia," he added, "supports our enemies and attacks our allies." 45

The most dramatic evidence of Saudi involvement in terror is the fact that 15 of the 19 September 11 terrorists were from Saudi Arabia. Despite this, the Saudi government refused to cooperate with the U.S. investigation of the attacks and rejected American requests to stop the flow of money through charitable organizations to terrorist groups. Many such charities are based in the United States and are being investigated by the Treasury Department.

Saudi support for terrorism and al-Qaida, in particular, is not restricted to extremists in the kingdom. A classified American intelligence report revealed that an October 2001 survey of educated Saudis between the ages of 25 and 41 found that 95 percent of the respondents supported Osama bin Laden's cause. 46 According to a UN report, "al-Qaida was able to receive between $300 and $500 million over the last 10 years from wealthy businessmen and bankers whose fortunes represent about 20 percent of the Saudi GNP, through a web of charities and companies acting as fronts." 47

"I thank Allah the exalted for His support in the Jihad of our people and for the liberation of the beloved Gaza Strip, and I ask him to help us to liberate Jerusalem and the West Bank, Acre, Haifa, Jaffa, Safed, Nazareth, Ashkelon, and all of Palestine."

— Muhammad Deif, Commander of the 'Izz Al-Din Al-Qassam Brigades 48

The Saudis have been heavily involved in supporting Palestinian terror. They were the largest financial backer of Hamas during the 1990s, providing perhaps as much as $10 million annually. At one point, Abu Mazen even complained to the governor of Riyadh that Saudi money wasn't reaching the "martyrs," but was going directly to Hamas. 49

The Saudis held a terror telethon on April 11, 2002, which raised more than $100 million for families of Palestinian "martyrs," including the families of suicide bombers and, during Operation Defensive Shield, the Israelis found numerous documents linking the Saudis to terror. 50 One, for example, itemized their allocations line by line, detailing the circumstances of the death of Palestinians whose families received assistance, and making clear the allocation was for suicide attacks. The information came from the Saudi Committee for Aid to the Al-Quds Intifada, which is headed by Saudi Minister of the Interior, Prince Nayef bin 'Abd al-Aziz.

Israeli authorities arrested an Israeli-Arab Hamas activist in September 2005 who confessed to receiving instructions for Hamas field operatives and hundreds of thousands of dollars from the Hamas headquarters in Saudi Arabia. Hamas leaders in Saudi Arabia provided funding to establish a "communications office" to report developments on the ground to Hamas operatives abroad. Money was also transferred, often under the cover of charity work, to the families of suicide bombers, imprisoned terrorists and Hamas institutions. 51

On the sixth anniversary of the 9/11 attacks, Undersecretary of the Treasury for Terrorism and Financial Intelligence Stuart Levey said, "If I could somehow snap my fingers and cut off the funding from one country, it would be Saudi Arabia" and, in April 2008, he reiterated that Saudi Arabia remained the world's leading source of money for Al-Qaida and other extremist networks. In July 2009, Treasury Secretary Timothy Geithner praised more recent Saudi efforts to combat terrorist financing, but a leaked State Department cable dated December 2009 informed American diplomats: "Saudi Arabia remains a critical financial support base for al-Qa'ida, the Taliban, LeT [the group accused of the 2008 terror attacks in Mumbai], and other terrorist groups, including Hamas. . . ." 52

MYTH
"Arab states no longer boycott Israel."
FACT

The Arab League declared a boycott against the Jews in 1945, before Israel was established, and most of its members have pursued a diplomatic and economic embargo against the Jewish State since its establishment. The boycott's influence waned after Egypt and Jordan made peace with Israel, the Palestinians became engaged in peace negotiations, and several Gulf states started ignoring the blacklist, but it was never abandoned, and several nations, most notably Saudi Arabia, have energetically enforced it for decades.

In 2005, Saudi Arabia announced it would end its economic embargo of Israeli goods to win acceptance to the World Trade Organization. 53 After initially saying that it would do so, the government subsequently announced it would maintain its first-degree boycott of Israeli products. The government said it agreed to lift the second and third degree boycott in accordance with an earlier Gulf Cooperation Council decision rather than the demands of the WTO. In June 2006, the Saudi ambassador admitted his country still enforced the boycott in violation of promises made earlier to the Bush Administration and the Saudis participated in the 2007 boycott conference.

The continued effort to isolate Israel economically and diplomatically demonstrates that many Arab states are still unwilling to recognize Israel. Until the boycott is terminated, and the Arab League members accept the existence of Israel, the prospects for regional peace will remain dim.

MYTH
"The 2002 Arab peace initiative reflects the Arab states' acceptance of Israel."
FACT

In 2002, then Crown Prince Abdullah of Saudi Arabia told journalist Thomas Friedman his ideas for a comprehensive Mideast peace. Abdullah's ideas were revised and adopted by the Arab League as a peace initiative that offered Israel "normal relations" in exchange for a withdrawal to the 1967 borders and resolution of the Palestinian refugee issue.

The initiative amounts to nothing more than a restatement of the Arab interpretation of UN Resolution 242. The problem is that 242 does not say what the Saudi plan demands of Israel. The resolution calls on Israel to withdraw from territories occupied during the war, not "all" the territories in exchange for peace.

In addition, Resolution 242 also says that every state has the right to live within "secure and recognizable boundaries," which all military analysts have understood to mean the 1967 borders with modifications to satisfy Israel's security requirements. Moreover, Israel is under no obligation to withdraw before the Arabs agree to live in peace.

The Arab plan calls for Israel to withdraw from the Golan Heights. The Israeli government has offered to withdraw from most, if not all of the Golan in exchange for a peace agreement; however, Syrian President Bashar Assad has so far been unwilling to negotiate at all with Israel.

The demand that Israel withdraw from "the remaining occupied Lebanese territories in the south of Lebanon" is at odds with the UN conclusion that Israel has completely fulfilled its obligation to withdraw from Lebanese territory.

The Arab initiative calls for a just solution to the Palestinian refugee problem based on the nonbinding UN General Assembly Resolution 194. Under the Arab interpretation, the 4.7 million refugees should be allowed to live in Israel. This suicidal formula has been rejected by Israel since the end of the 1948 war and is totally unacceptable to all Israelis today. Israel does, however, recognize a right for all the refugees to live in a future Palestinian state and has agreed to allow some Palestinian refugees to live in Israel on a humanitarian basis, and as part of family reunification.

The refugee issue was not part of Abdullah's original proposal, but was added under pressure from other Arab states. Another change from Abdullah's original vision was a retreat from a promise of full normalization of relations with Israel to an even vaguer pledge of "normal relations."

The Arab demand that Israel accept the establishment of a Palestinian state in the West Bank and Gaza with East Jerusalem as its capital has been part of the negotiations since Oslo. Israel's leaders, including Prime Minister Ehud Olmert, have accepted the idea of creating a Palestinian state in part of those territories, and Israel has even offered compromises on the status of Jerusalem, but the Palestinians have rejected them all.

It is also worth noting that most of the Arab League nations have no reason not to be at peace with Israel now. Israel holds none of their territory and is more than willing to make peace with the members of the League. Several members of the League had already begun to normalize relations with Israel before the latest outbreak of violence, and their principal critic was Saudi Arabia.

If the Arab proponents of the plan were sincere, the response should be that they are prepared to sit down with Israel's leaders and discuss how to overcome the disagreements. But this has not been the Arab response. Rather than accept an Israeli invitation to come to Jerusalem to negotiate, the Arabs have told Israel it must accept the plan or face the threat of war. Here are a few examples:

Saudi Foreign Minister Prince Saud al-Faisal, said: "If Israel refuses, that means it doesn't want peace and it places everything back into the hands of fate. They will be putting their future not in the hands of the peacemakers but in the hands of the lords of war." 54
The Syrian information minister, Muhsen Bilal, declared: "If Israel rejects the Arab League peace proposal, resistance will be the only way to liberate the Golan Heights." 55
The secretary general of the Gulf Cooperation Council, Abdulrahman al-Attiya, said that Israel should respond expeditiously to the Arab peace initiative because the Arabs are in no mood to wait interminably. 56

Make peace on our terms or else. Is this the rhetoric you would expect from leaders who have moderated their views and want to seek an accommodation with Israel?

Peace plans are not worth the paper they are printed on if the proponents continue to talk about war and pursue policies such as supporting terrorists, arming radical Muslims, inciting their populations with anti-Semitic propaganda and enforcing boycotts that promote conflict. Progress toward real peace requires the Arab states to show by words and deeds that they are committed to finding a formula for coexisting with Israel. The only ultimatum should be that if the first efforts to reach an understanding do not succeed, they will try and try again.

MYTH
"Palestinians would prefer to live in a Palestinian state."
FACT

Most Palestinians currently living inside Israel's borders say they would prefer to live in Israel rather than a Palestinian state. One poll found that 62 percent of Israeli Arabs preferred to remain Israeli citizens rather than become citizens of a future Palestinian state. Another poll of East Jerusalemites found that only 30 percent of Palestinians would prefer Palestine over Israel and, if their neighborhood became an internationally recognized part of Israel, 54 percent said they would not move to Palestine. 57 Israeli Arabs know that, despite its faults, Israel is still a democratic state that offers them freedom of speech, assembly, religion, and the press, and respects human rights in general and women's rights and gay rights in particular. Palestinians are denied all these rights under Palestinian Authority rule.

"The major difficulty is that the Palestinians don't accept Israel's right to exist."

Residents of East Jerusalem began voting with their feet when politicians began discussing the possibility of dividing Jerusalem prior to the Annapolis Conference in 2007. Only about 12,000 East Jerusalemites had applied for citizenship since 1967 (out of some 250,000), but 3,000 new applications flooded Israel's Ministry of Interior in the four months prior to the meeting. 59

For the Palestinians of the Ras Hamis and Shuafat refugee camps, which are a part of Jerusalem, but would most likely fall on the side of Jerusalem apportioned to the Palestinian Authority in any future peace agreement, the preference for staying in Israel is clear. They plan to take advantage of their status as Israeli permanent residents, which allows them freedom of movement, and move to a city well within Israel's borders and legal jurisdiction. "If they put a border here, we'll move to Haifa and Tel Aviv. You'll have fifty thousand people who live here leaving East Jerusalem in minutes," declared Jamil Sanduqa, head of the refugee camp's local council. 60

Many of the 250,000 East Jerusalemites depend heavily on Israel for jobs, health care, and unemployment insurance. They do not foresee having the same opportunities or benefits under the Palestinian Authority. Palestinians living in Israel want to live normal lives and earn a living to help their family and don't want to be involved with extremists. "I don't want to raise my children on throwing stones, or on Hamas," Sanduqa said. 61

One of the proposals for moving toward a two-state solution is a land swap. The idea is that Israel would evacuate most of the West Bank but keep the large settlement blocs that are home to approximately 200,000 Jews. This area is estimated to be 3–5 percent of the West Bank. Israel has proposed a land swap of a similar amount of territory now within Israel. One idea is to shift the border so the 45,000 residents of Umm el-Fahm, plus an additional 150,000 Israeli Arabs who sit on 200 square miles of land just northeast of the West Bank, would be a part of a future Palestinian state. The Palestinians swap citizenship; Israel exchanges land. In theory, it's a win-win situation where everyone gets to be citizens of their own nation. But the Israeli Arabs in these towns, especially Umm el-Fahm, the largest Muslim city in Israel, are vehemently opposed to being part of the deal.

"It's easy enough for global leaders to issue flowery appeals for action on the Middle East or to imply that progress would be possible if only the United States used its leverage with Israel. The stubborn reality is that there can be no movement toward peace until a Palestinian leadership appears that is ready to accept a two-state solution."

— Editorial, Washington Post 62

"We wish to express our sharp opposition to any initiative taken by the State of Israel and the Palestinian Authority with regard to our civil, political and human rights," the heads of the Arab regional councils and cities wrote to Prime Minister Olmert and his cabinet members in response to the land swap proposal. " . . . We wish to make it clear that as citizens of the State of Israel since 1948–1949 . . . the proposed moving of borders will deprive us of these human rights and tear apart the social and economic ties that have been constructed on the basis of a long and difficult struggle."

One of the first to sign the letter to Prime Minister Olmert was Sheik Hasham Abed Elrahman, Umm el-Fahm Mayor and head of the Wadi Ara Forum of Arab and Jewish Mayors. He wrote, "I cannot argue with feelings. I can tell you that we want to work together with the Jewish majority for the betterment of all of Israel. Religiously, politically and socially, we want to remain part of the State of Israel." 63

Not only do few Palestinians want to move to "Palestine," many Palestinians now living in the Palestinian Authority would emigrate if they could. According to a December 2007 survey, 34 percent of the residents would like to leave. 64

MYTH
"Mahmoud Abbas is a moderate politician interested in compromise."
FACT

The definition of "moderate" is relative. Compared to Hamas, Hizbullah and Ahmadinejad, for example, Abbas can be viewed as a moderate since he explicitly negotiates with Israel. Abbas, however, has expressed no true willingness to compromise on any substantive issue, balks at true peace efforts and spews anti-Israel rhetoric that has significantly hampered the peace process.

In November 2010, Abbas spoke at the sixth annual memorial service for Yasser Arafat and definitively announced that he will continue to tow the hard line agenda of his mentor and predecessor. 65 Abbas is holding to Arafat's policies of declaring Jerusalem the capital of Palestine; requiring Israeli withdrawal from all settlements; demanding the full right of return for Palestinian refugees and their descendants; and refusing to acknowledge the Jewish character of the State of Israel. Abbas also publicly glorifies Palestinian martyrs and allows Holocaust denial to spread in official Palestinian sources.

On the issue of Jerusalem, Abbas said the city would be the capital of a future Palestinian state. "At the Camp David summit, the Palestinian leadership rejected an Israeli proposal to share sovereignty over the Aksa Mosque," he said. "They wanted to give the Muslims all what is above the mosque, while Israel would control what's under it. We continue to reject this offer. We cannot compromise on Jerusalem." 66 In an interview with the Washington Post, Abbas declared, "I say and have always said that East Jerusalem is an occupied territory. We have to restore it." 67 Again in 2010, he said that "the Arab city of Jerusalem, including its holy sites, is an integral part" of the future Palestinian state. 68

On the subject of Israel's 2005 disengagement from Gaza, Abbas insisted that "The withdrawal from Gaza must only be part of other withdrawals. . . . Israel must pull out of all Palestinian lands occupied in 1967." 69 He reiterated again in a letter to Presidents Obama and Medvedev in 2010 that "the shortest way to peace is ending the Israeli occupation of all territory . . . including Jerusalem, occupied Syrian Arab Golan Heights and the remaining Lebanese territories." 70 Abbas refuses to acknowledge Israeli security concerns that would stem from a complete withdrawal and is categorically opposed to land-swap deals to allay those fears.

In the same speech Abbas said that the refugee issue had to be solved on the basis of UN Resolution 194. According to Abbas, 4.7 million Palestinians are refugees. In a January 3, 2005, appearance, Abbas said Palestinian refugees and their descendants have the right to return to their original homes. "We will never forget the rights of the refugees, and we will never forget their suffering. They will eventually gain their rights, and the day will come when the refugees return home," Abbas told a cheering crowd. 71 In November 2010, the Fatah Revolutionary Council praised Abbas for standing up to pressure and maintaining his position on the Palestinian right of return. 72

Though Abbas negotiates with Israel he rejects its raison d'etre as a Jewish state. Speaking to the Palestinian youth parliament in 2009, Abbas declared his refusal to recognize Israel's Jewish character saying, "Call yourselves what you want, but I will not accept it . . . The 'Jewish State' . . . I will not accept it." 73 Abbas backed that statement again in September 2010, when he told members of the Hadash party it was an "unacceptable demand" that he recognize Israel as a Jewish state. 74

In 2008, Israeli Prime Minister Ehud Olmert extended a peace proposal to Abbas that would have created two nation-states. Under the plan Israel would have withdrawn from almost the entire West Bank and partitioned Jerusalem on a demographic basis. Abbas rejected the offer. 75

Abbas was supposed to have forsworn terror, but on February 28, 2008, he told the Jordanian newspaper al-Dustur that he did not rule out returning to the path of armed "resistance" against Israel. In fact, his reason for not engaging in "armed struggle" was not because he disavowed terror, but because he doesn't believe the Palestinians can achieve their objectives. "At this present juncture, I am opposed to armed struggle because we cannot succeed in it, but maybe in the future things will be different," he said. 76 Earlier, Abbas had launched his presidential election campaign by saying "the use of weapons is unacceptable because it has a negative impact on our image." The Wall Street Journal noted afterward that "Mr. Abbas does not reject terrorism because it is immoral, but because it no longer sells the cause abroad." 77

Abbas was the number two person in the PLO under Arafat and a founder of the Fatah terrorist organization, which makes him responsible for decades of atrocities. In February 2008, he proudly claimed credit for initiating the terror campaign against Israel. "I had the honor of firing the first shot in 1965 and of being the one who taught resistance to many in the region and around the world," Abbas said. The PA president even takes credit for training the Lebanese Shiite terrorists. "We (Fatah) had the honor of leading the resistance and we taught resistance to everyone, including Hizbullah, who trained in our military camps." 78 In 2010, Abbas eulogized the mastermind behind the massacre at the 1972 Munich Olympics in which 11 Israeli athletes were murdered as "a leading figure in resistance" who "sacrificed for his people's just causes." 79

Abbas is also a Holocaust denier. His Ph.D. dissertation suggested that six million Jews did not die at the hands of the Nazis and he denied that gas chambers were used to murder Jews. 80 Abbas also allows Holocaust denial to spread under his watch. The official PA media outlet airs programs where Palestinian academics teach that Auschwitz and Dachau "never existed" and the Palestinian Ministry of Education produces schoolbooks which teach the history of World War II yet completely ignores the Holocaust and the extermination of six million Jews. 81

Abbas also clings to the hope that Israel will be forced to capitulate to his demands by outside powers, a fantasy that is fed by pressure exerted on Israel from the Europeans, UN, and the U.S. State Department. After refusing to negotiate with the Netanyahu government, Abbas announced plans to make an end-run around peace talks and seek UN recognition of a Palestinian state. He also agreed to reconcile with Hamas even as that organization insisted it remained committed to the destruction of Israel.

Israelis have no illusions about Abbas and remain skeptical that any agreements can be reached with a man who has shown neither the will nor the ability to carry out any of his promises. Nevertheless, Israeli leaders understand he is the only interlocutor they have for the moment and are willing to pursue negotiations in the hope that Abbas will genuinely moderate his views and compromise on the issues required to reach an agreement.

MYTH
"Palestinians are driven to terror by poverty and desperation."
FACT

The situation many Palestinians find themselves in is unfortunate and often quite severe. Many live in poverty, see the future as hopeless and are unhappy with the way they are treated by Israelis. None of these are excuses for engaging in terrorism. In fact, many of the terrorists are not poor, desperate people at all. Osama bin Laden, for example, was a Saudi millionaire.

On March 6, 2008, Ala Abu Dhaim murdered eight seminary students and wounded 15 more at the Merkaz Harav yeshiva in Jerusalem. Dhaim was not poor or desperate. He was engaged to be married, he came from a family that is financially comfortable, and was employed by the yeshiva as a driver. Dhaim also was not suffering under "occupation." In fact, as a resident of the East Jerusalem village of Jabel Mukaber, which lies within Jerusalem's municipal boundaries, he was entitled to all the same social and welfare benefits as Israeli citizens.

The stereotype that Palestinians turn to terrorism out of desperation is simply untrue. "There is no clear profile of someone who hates Israel and the Jewish people. They come in every shape and from every culture. Demonstrators, rioters and stone throwers do tend to be younger, unmarried males. But there's a big difference between the young men who participate in those types of disturbances and terrorists," remarked Aryeh Amit, former Jerusalem District Police Chief. 82

"The use of suicide bombing is entirely unacceptable. Nothing can justify this. "

— UN Special Representative for the protection of children in armed conflict,
Under Secretary-General Olara Otunnu 83

A report by the National Bureau of Economic Research concluded, "economic conditions and education are largely unrelated to participation in, and support for, terrorism." The researchers said the outbreak of violence in the region that began in 2000 could not be blamed on deteriorating economic conditions because there is no connection between terrorism and economic depression. Furthermore, the authors found that support for violent action against Israel, including suicide bombing, does not vary much according to social background. 84

For example, the cousin of one of the two Palestinian suicide bombers who blew themselves up on a pedestrian mall in Jerusalem in 2001, killing 10 people between the ages of 14 and 21, remarked candidly, "These two were not deprived of anything." 85

Though some try to suggest the violence has nothing to do with radical Islam, the reality is that it is only Muslims who have engaged in suicide bombing. Palestinian Christians living in the same situation have not resorted to terror.

Terrorism is not Israel's fault. It is not the result of "occupation." And it certainly is not the only response available to the Palestinians' discontentment. Palestinians have an option for improving their situation, namely negotiations. But under the current Hamas regime, this is adamantly rejected. The Palestinians could also choose the nonviolent path emphasized by Martin Luther King or Gandhi. Unfortunately, they choose to pursue a war of terror instead of a process for peace. Israel has proven time and again a willingness to trade land for peace, but it can never concede land for terror.

MYTH
"Israel must negotiate with Hamas."
FACT

Hamas controls the Gaza Strip and, therefore, some people argue that Israel must negotiate with the terror group. Few Israelis seriously believe that Hamas is interested in any lasting peace with Israel, but the advocates for negotiations believe it may be possible to reach a long-term cease-fire agreement in which Hamas promises to stop firing rockets into Israel and Israel ceases its military operations against the group in Gaza.

Hamas cease-fires have resulted from fear that Israel was about to attack them or in response to targeted killings of their leaders. In 2007 and 2008, truces were used by Hamas to rearm and then were subsequently broken when terrorists resumed rocket attacks on southern Israel.

Meanwhile, its spokesmen continue to make belligerent statements. On August 2, 2010, for example, Hamas leader Khaled Mashal said, "We are not concerned about being called terrorists, since if our jihad is considered terrorism, then the detractors can say whatever they want. We are going to stick to jihad, resistance, and guns as the path towards liberation and return." 86 Hamas also remains committed to its covenant that calls for the destruction of Israel.

It is often said that you don't make peace with your friends, you make peace with your enemies, but this assumes the enemy you are negotiating with is not committed to your destruction. Golda Meir said it best when she explained the conflict had nothing to do with territory. "We're the only people in the world where our neighbors openly announce they just won't have us here," she observed. "And they will not give up fighting and they will not give up war as long as we remain alive . . . They say we must be dead. And we say we want to be alive. Between life and death, I don't know of a compromise."
---
Sources:
1 Speech to AIPAC Policy Conference, (May 8, 1978).
2 Jerusalem Post, (September 25, 2001).
3 Daniel Pipes, The Long Shadow: Culture and Politics in the Middle East, (NJ: Transaction Publishers, 1989), pp. 273–74.
4 Reuters, (November 11, 2001).
5 Michael Widlanski, Can Israel Survive A Palestinian State?, (Jerusalem: Institute for Advanced Strategic and Political Studies, 1990), pp. 10, 35.
6 Dore Gold, "Israel's War to Halt Palestinian Rocket Attacks," JCPA, (March 3, 2008).
7 Editorial, Chicago Sun Times, (June 27, 2006).
8 Yediot Aharonot, (November 23, 2001).
9 Yediot Aharonot, (August 7, 2002).
10 MSNBC, (June 27, 2002).
11 "Proceedings and Debates of the 107th Congress, 2nd Session, Vol. 148-Part 4," US Congressional Record, (April 11–24, 2002), p. 5174.
12 Associated Press, (May 26, 2003).
13 New York Times, (August 27, 2003).
14 Daniel Pipes, "[Suicide Bombers:] A father's pride and glory," Jerusalem Post, (August 15, 2001).
15 Jerusalem Post, (October 16, 2001).
16 "Hamas TV drops militant Mickey Mouse," Jerusalem Post, (May 9, 2007); Itamar Marcus and Barbara Cook, "Hamas steals Mickey Mouse image to teach hate and Islamic supremacy," Palestinian Media Watch Bulletin, (May 6, 2007).
17 "Palestinian Children Taught Paradise Is Reward for Martyrdom," Palestinian Media Watch, (June 28, 2006).
18 Itamar Marcus and Nan Jacques Zilberdik, "PA TV to kids: Israeli cities, Haifa, Jaffa, Lod, Ramle, Acre are all 'occupied cities,' " Palestinian Media Watch, (August 29, 2010).
19 "Sharm el-Sheikh Fact-Finding Committee—First Statement of the Government of Israel," (December 28, 2000), http://www.mfa.gov.il/mfa/go.asp?MFAH0jcb0.
20 Lee Hockstader, "At Arab, Israeli Schools, Hatred Is Common Bond," Washington Post, (September 5, 2001).
21 Goetz Norbruch, Narrating Palestinian Nationalism: A Study of the New Palestinian Textbooks," (DC: MEMRI, 2002).
22 Near East Report, (June 25, 2001); Jerusalem Post, (July 20, 2001).
23 Quoted in Jerusalem Post, (July 20, 2001).
24 Arnon Ben-Dror, "Welcome to Camp Hamas," Israel Defense Forces, (August 29, 2009).
25 Jerusalem Post, (May 15, 2005).
26 Al-Manar TV, (January 25, 2006).
27 For example, Hamas Foreign Minister Mahmoud Zahar, "I dream of hanging a huge map of the world on the wall at my Gaza home which does not show Israel on it," Xinhua, (April 1, 2006).
28 Jerusalem Media & Communication Center, (April, 2008).
29 "Map Erasing Israel on Palestinian Website," Palestinian Media Watch, (February 1, 2010).
30 Washington Post, (July 18, 2001), citing an article by Robert Malley and Hussein Agha in the New York Review of Books in which they quote the president at the Camp David summit in July 2000.
31 Chicago Tribune, (March 5, 1988).
32 Washington Post, (August 10, 2001).
33 Moshe Zak, "Did Israel Inject AIDS to Palestinian Children," Israel Behind the News, (March 30, 1998).
34 Palestinian Authority TV, (March 3, 2003).
35 Aaron Klein, "Palestinians Claim Israelis X-Rayed Woman to Death," WorldNet Daily, (May 2, 2005).
36 Palestinian Authority TV, (March 3, 2003).
37 VOA News, (February 12, 2004).
38 Radio Damascus, (March 8, 1974) cited in Daniel Pipes, "Palestine for the Syrians?," Commentary, (December 1986).
39 Jerusalem Post, (July 16, 1994).
40 "Main Points: Israel-Jordan Peace Treaty," Ministry of Foreign Affairs, (October 26, 1994).
41 "Averting the Middle East Water Crisis," Link, (May 1995).
42 Israel Harel, "Claims Israel deprives Palestinians of water are groundless," Haaretz, (October 29, 2009).
43 Mideast Mirror, (October 7, 1991).
44 Washington Post, (September 10, 1995).
45 Washington Post, (August 6, 2001); Matthew Levitt, "A Hamas Headquarters in Saudi Arabia?" Washington Institute for Near East Policy, (September 28, 2005).
46 New York Times, (January 27, 2002).
47 "Terrorism Financing—Report Prepared for the President of the Security Council," United Nations, (December 19, 2002).
48 Audiotape posted August 27, 2005, on the 'Izz Al-Din Al-Qassam Brigades website, translated by MEMRI.
49 Kenneth Timmerman, "Hamas' Friends," Australia/Israel Review, (June 2002), p. 13.
50 Washington Post, (April 2 and 12, 2002).
51 Matthew Levitt, "A Hamas Headquarters in Saudi Arabia?" Washington Institute for Near East Policy, (September 28, 2005).
52 Mitchell Bard, The Arab Lobby. (Harper Collins, 2010), p. 182; "Terrorist Finance: Action Request for Senior Level Engagement on Terrorism Finance," State Department cable, (December 30, 2009).
53 "Saudi Arabia lifts Israel embargo," Jerusalem Post, (November 15, 2005; June 22, 2006).
54 David Blair, "Accept peace plan or face war, Israel told," Telegraph, (March 28, 2007).
55 Roee Nahmias, "Syria: Without peace, resistance will liberate Golan Heights," Ynetnews, (April 16, 2007).
56 "Arabs won't wait decades for Israeli response to Arab Peace Initiative: GCC," Kuwait News Agency, (May 3, 2007).
57 KEEVOON Research, Strategy and Communications, (December 26, 2007); "The Palestinians of East Jerusalem: What Do They Really Want?" Pechter Middle East Polls/Council on Foreign Relations, (January 12, 2011).
58 Associated Press, (December 7, 2006).
59 Ronny Shaked, "Thousands of Palestinians apply for Israeli citizenship," Ynetnews, November 7, 2007).
60 Joshua Mitnick, "Better the Devil You Know," The Jerusalem Report, (November 11, 2007).
61 Ibid.
62 "Instransigent Hamas," Washington Post, (October 11, 2006).
63 Eetta Prince-Gibson, "Land (Swap) for Peace?" The Jerusalem Report, (November 26, 2007).
64 Near East Consulting, Bulletin # II-12, (December 2007).
65 "Abbas Talks Peace Process at Arafat Memorial," Ma'an News Agency, (November 11, 2010).
66 Tani Goldstein, "Rocket Hits Ashkelon House; Qassams Land in Sderot," Ynetnews, (March 3, 2008).
67 "A Conversation with Mahmoud Abbas," Washington Post, (September 30, 2007).
68 Khaled Abu Toameh, "Abbas Vows to Walk in Arafat's Footsteps in Palestine," Jerusalem Post, (November 12, 2010).
69 "Abbas Demands Israeli Pullout, Prisoner Release," Daily Times, (December 26, 2004).
70 "Erekat Delivers Message from President Abbas to Quarter," Independent Media Review Analysis, (August 22, 2010).
71 "Abbas: Refugees to Return to their Homes in Israel," Haaretz, (January 4, 2005).
72 Khaled Abu Toameh, "Fatah: No to Israel as Jewish State, No Land Swaps,' " Jerusalem Post, (November 28, 2010).
73 "Abbas Scorns 'Jewish State,'" Palestinian Media Watch, (April 27, 2009).
74 Ynet, "Abbas: We Won't Recognize Israel as Jewish State," Ynetnews, (October 15, 2010).
75 Ari Shavit, "The two nation-state solution," Haaretz, (April 23, 2009).
76 Roee Nahmias, "Report: Abbas Does Not Rule Out Resuming Armed Conflict with Israel," Ynetnews, (February 28, 2008).
77 Editorial, "The End of the Affair," Wall Street Journal, (December 31, 2004).
78 "Abbas: Armed Resistance Not Ruled Out," Jerusalem Post, (February 29, 2008).
79 Tzvi Ben Gedalyahu, "Abbas Eulogizes Munich Massacre Mastermind," Arutz Sheva, (July 4, 2010).
80 "Palestinian Authority Holocaust Denial and Distortion," Palestinian Media Watch.
81 Ibid.
82 Interview with Jerusalem District Police Chief Aryeh Amit by Eetta Prince Gibson, "The Back Page," The Jerusalem Report, (March 31, 2008).
83 Jerusalem Post, (January 15, 2003).
84 Jitka Maleckova and Alan Kreuger, "Education, Poverty, Political Violence and Terrorism: Is There a Causal Connection?" (July 2002), quoted in the Daily Star [Lebanon], (August 6, 2002).
85 Washington Post, (December 5, 2001).
86 Intelligence and Terrorism Information Center, (August 8, 2010).